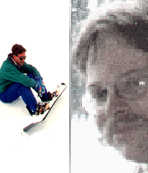 Established in 1997 by the family and friends of thirty year old Chris Maki. Chris was randomly attacked, robbed and stabbed to death while walking to his apartment in Charlotte, NC on November 5, 1997.


The mission of the foundation is to educate all, especially the young, about the occurrence and the consequences of violence in our society today.

LATEST NEWS
15th Anniversary Tribute to Chris
November 5th 2012 will mark the 15 year anniversary of Chris' murder. We hope to pay tribute to Chris in a very special way. During the past few months while we have been contemplating how we would recognize this anniversary, Amy became employed at Plymouth State University in Plymouth NH. One of her project involvements is working with an educational program called TIGER. TIGER (Theatre Integrating Guidance, Education, and Responsibility) is a professional theatre company designed to help children, schools, parents and communities deal proactively and positively with social issues and concerns facing children in schools today. www.plymouth.edu/outreach/tiger

As our special tribute to Chris, The Chris Maki Foundation would like to bring TIGER to the schools in the Lunenburg area by financing a portion of the performance cost. In order to accomplish this we once again reach out to you, our supporters, and ask you to consider donating to the foundation to assist us in this endeavor. As always we thank you for your friendship, love and support and ask that you continue to always "remember Chris" in your thoughts and prayers.

Please send donations to:
The Chris Maki Foundation c/o
The Maki Family
32 Sargent Street
North Woodstock, NH 03262


Share your Chris memories on our new Facebook Page
Like us on Facebook: http://facebook.com/Peace.Chris.Maki
We invite friends and family to share Chris stories and memories on our new Facebook Page.

We know it is sometimes difficult to stir up those emotions, but sharing memories, funny times, and special Chris moments is good for the soul and reminds us all of the special person we lost.

And who knows… maybe it even causes Chris to smile and chuckle up in heaven.
2012 Scholarship Awards

Derek Doiron from St. Bernard High School attending Westfield
State College

Shaunna Lizek from Lunenburg High School attending Fitchburg State College